Well-respected among his peers and patients, Dr. Jason Kasarsky is a New York City cosmetic and implant dentist who offers various cosmetic, implant and general dentistry procedures. As one of the top dentists in the NYC area, Dr. Kasarsky looks at dentistry as "a delicate blend of art and science." He strives to provide his patients with the latest, safest, most technologically-advanced procedures, while using his unique talent and well-honed eye to provide flawless results. Dr. Kasarsky has been sought out to teach, lecture and contribute to numerous institutions and publications.
Since Dr. Kasarsky believes in staying on the cutting edge of medical breakthroughs, he and his staff complete more than 200 annual hours of continuing education. In addition, Dr. Kasarsky has completed more than 300 hours of oral implantology. For all of his hard work and dedication to the field of dentistry, Dr. Kasarsky has been bestowed with many prestigious awards and honors like being included in Who's Who among professionals. At his practice since 1975, Dr. Kasarsky's countless, satisfied patients are always praising him for his excellent work and compassionate care.
Dr. Kasarsky specializes in dental implants where he can replace missing teeth with natural-looking replacements for a seamless look. In fact, Dr. Kasarsky has performed more than 300 hours of oral implantology. A certified Microthin and Durathin clinician, Dr. Kasarsky has extensive experience in providing his patients with veneers to restore a bright and dazzling smile. Tooth recontouring, fillings and whitening are among the cosmetic procedures that Dr. Kasarsky offers.
Dr. Kasarsky also provides dental bondings to restore chipped, decayed or misshaped teeth. Dr. Kasarsky offers oral cancer screenings, cosmetic and sedation dentistry to ease any patient anxiety during procedures.
Dr. Kasarsky attended Adelphi University in Garden City, NY where he graduated with a B.A. in Biology and History. He then graduated from the prestigious New York University College of Dentistry with his Doctor of Dental Surgery degree. After earning his degree, Dr. Kasarsky attended the Cornell University-affiliated teaching hospital in New York, North Shore University Hospital, to complete his dental residency.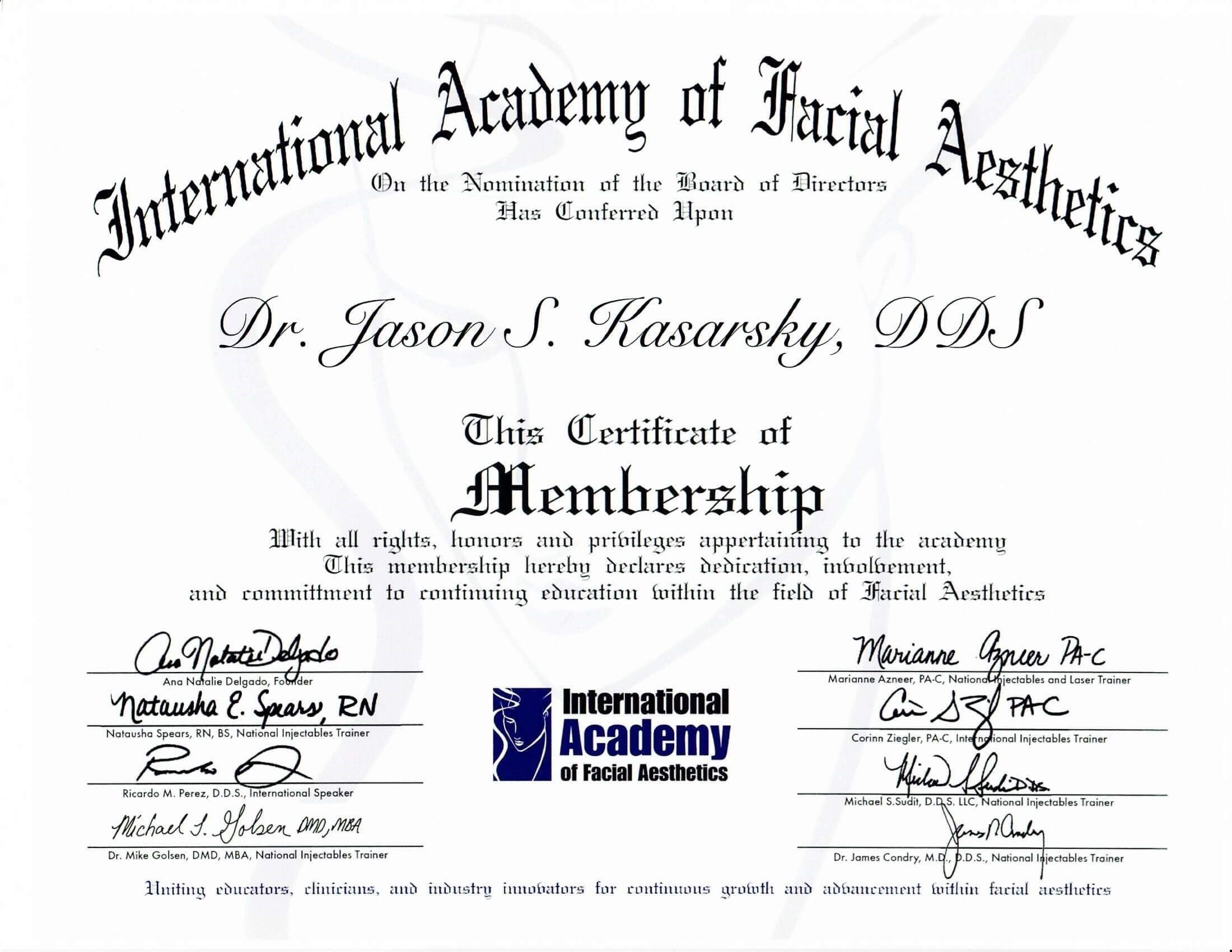 Part of dentistry's upper echelon, Dr. Kasarsky is a member of the Crown Council of Dentistry, which has only extended membership to 300 dentists around the country. In addition, Dr. Kasarsky has been honored by Who's Who for professionals. Through the years, he has contributed to and been featured in numerous publications. Further, Dr. Kasarsky has appeared on various programs like "Second Opinion with Dr. Oz," "Good Morning America" and "The Apprentice."
Some of Dr. Kasarsky's most notable achievements and milestones are highlighted below.
Employment
Jason Kasarsky, DDS, New York, NY
Owner, 1975 to Present
Professional Associations
American Academy of Cosmetic Dentistry
American Dental Association
Crown Council of Dentistry
New York County Dental Society
Teaching/Lecturing Appointments
Spear Institute Education Center for Dentistry, Scottsdale, AZ
Visiting Faculty Member, 2007 to Present
Lecturer and Clinical Instructor, 1991-2009
IMZ Osseo Integrated Implant System, North America
Guest Lecturer, 1984-1986
New York University College of Dentistry
Clinical Lecturer, 1976-1978
Publications
New Beauty Magazine, 2013-Present
Top Beauty Expert, "Ask Dr. Kasarsky" Contributor
Inside the Minds: The Art & Science of Being a Dentist
Contributor
Features
"Best Whitening Office in New York City"
"What's Fake?"
"Now Open White & Wide"
"Smile! Your Teeth Tell All"
"Finds in the Hamptons"
Profile
Appearances
ABC Talk Radio
NY1 News, "High Tech Dentistry"
The Discovery Channel, "Second Opinion with Dr. Oz"
Good Morning America, "Sedation Dentistry"
The Wellness Hour
The Apprentice
Outside of the office, Dr. Kasarsky has varied interests but puts a strong emphasis on wellness, so he enjoys skiing, biking and playing tennis. A music aficionado, he's quite skilled at playing the ever-challenging air guitar. Above all, Dr. Kasarsky is truly passionate about dentistry, so he loves to teach and mentor up-and-coming dentists, as well as learn new dentistry techniques himself to stay informed on the latest procedures and treatments.
Reviews
"Your magic and able hands did a super job. All's well! Passed out last night but went for great bike ride this AM! Thanks."
L.
Office Visit
"I want to thank you and your team for all the excellent work you've done for me. After getting treated by you I've had the experience of not being unhappy with my teeth for the first time in decades. Many thanks!"
L.
Office Visit
"I have been a very happy patient of "Dr. K" for almost 30 years and consider him to be the finest medial professional I've ever met. He and his excellent staff combine traditional "Patient First" service with the latest technology to provide first class treatment. I always have the utmost confidence that my family and I will get the best possible case – with a smile!"
S.
Office Visit
"Dr. Kasarsky has been my doctor for almost 5 years and every time I receive an outstanding service. I see him more as an artist, not a dentist. He is very passionate about his job and I guess that is the secret to his success and excellent performance."
I.
Office Visit
"Incredibly friendly and courteous staff!! Who knew you could actually love going to visit the dentist!?!?! Hands down best place to get your dental care in all of NYC."
J.
Office Visit
Related Post