New York City dentist Dr. Jason Kasarsky offers BOTOX treatments to patients seeking cosmetic rejuvenation. After a cosmetic dental procedure, or if you are simply ready to turn back the hands of time, BOTOX can help smoothen facial wrinkles along the forehead and around the eyes. For patients receiving a smile makeover, this added procedure would complement the outcome beautifully. BOTOX is a product that is produced from Botulinum Toxin Type A (or BTX-A). This ingredient, once injected, assists in blocking the facial nerve endings, which paralyzes the muscles under the skin temporarily. This allows the muscles to relax so that the skin on the surface does not have a chance to wrinkle. Within about 5 – 7 days, the forehead, which is the most common injection area, will look smoother, softer, and a significant decrease in lines and wrinkles will be noticeable. On average, the results from a BOTOX injection last up to about four months.
At our state-of-the-art facility, Dr. Kasarsky also provides BOTOX injections in order to effectively provide therapeutic solutions, including to treat symptoms of teeth grinding (bruxism), TMJ, and chronic headaches. When BOTOX is applied to the jaw or face, it can relax the muscles in order to prevent teeth grinding, jaw clenching, and painful migraines. Learn more about BOTOX for therapeutic and cosmetic concerns by contacting our New York City facility today to schedule your initial consultation.
BOTOX injections are performed right inside our New York City dental practice. Administering BOTOX is quite simple. Dr. Kasarsky will mark the areas of injection with erasable ink and then apply a numbing ointment to help with any discomfort. He will inject the areas with the medication and then apply a light cold compression to help with bleeding or swelling, which is minimal in most cases. The entire procedure generally lasts about 30 minutes. There is no downtime after a BOTOX treatment.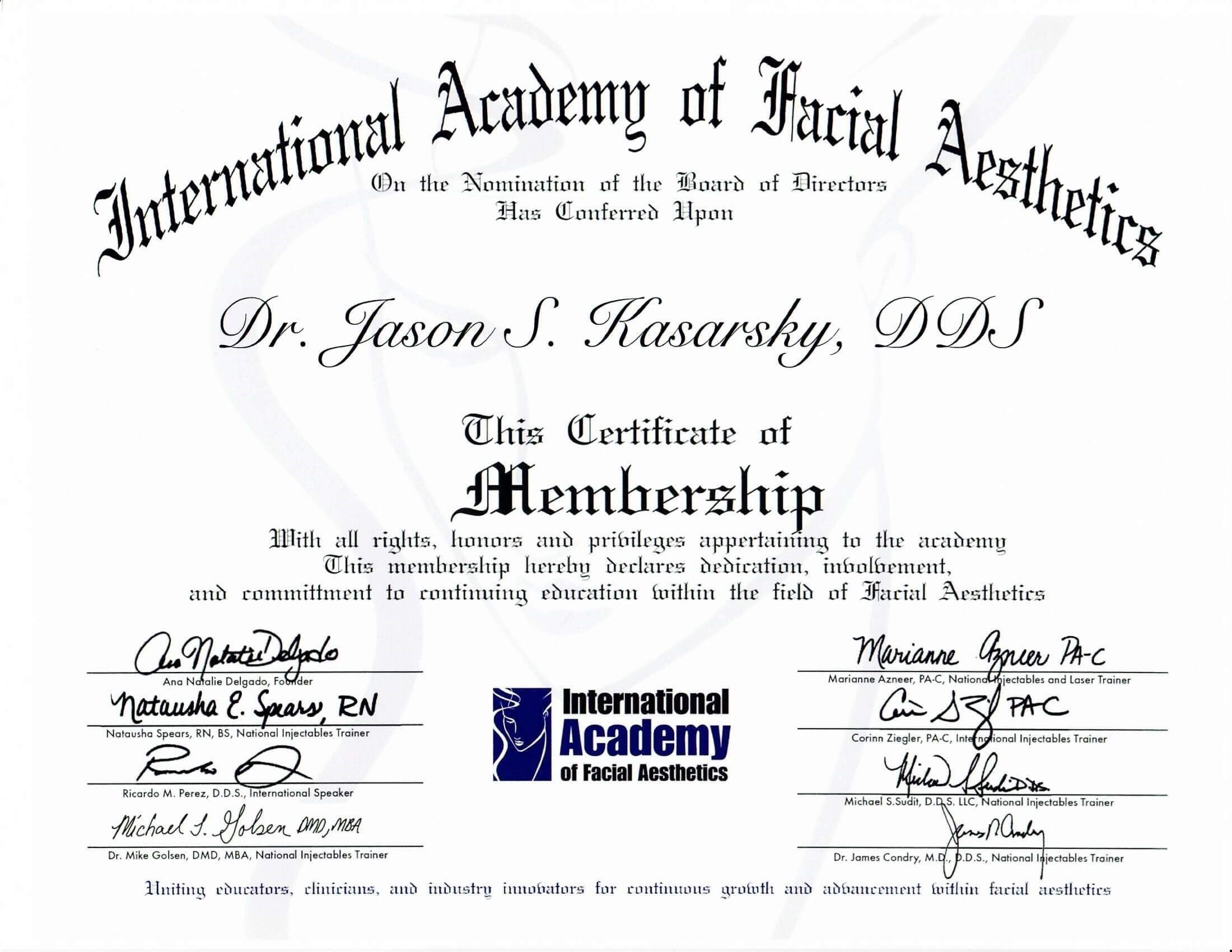 Dr. Kasarsky has completed BOTOX and dermal filler training. That provides the patient with the ability to reduce the signs of aging and alleviate dental ailments. He can provide aesthetic, dental therapeutic, and restorative treatment that can rejuvenate facial aesthetics and relieve pain.
Reviews
"Dr. Kasarsky and his team make me smile! My smile is my signature, and I wouldn't trust it to anyone else!"
- DH /
Office Visit /
Feb 13, 2018
"It has been over 25 years since I last saw Dr. Kasarsky and wanted to reach out and say thank you for what you did for me so many years ago. My current dentist in NJ recently commented that the work Jason did was "ahead of his time and lasted 3 times longer than any veneer work he has ever seen" (seals are perfect). I fondly remember Jason and his great office staff. I was in poor dental shape before I saw Jason and he got me in shape just in time for my wedding - now over 25 years ago. Thank you always!"
- B.K. /
Google /
Dec 05, 2019
"Jason is a talented professional. He earned my trust with patience and understanding. I no longer fear visits to the dentist."
- E.H. /
Facebook /
Jun 21, 2019
"Absolutly painless. Super personable - the best!read more"
- L. /
ZocDoc /
Jun 06, 2019
"Dr. Kasarsky is a wonderful dentist with an amazing staff. Its always a pleasure to go in for my visits.read more"
- S. /
ZocDoc /
Jun 06, 2019
Previous
Next
Immediately following treatment, patients will have some mild swelling and redness at the injection sites, but this goes away within 2 – 3 hours. Cold packs will be provided, which will help with the swelling. Some bruising may appear near the injection sites, but this is also short-lived, and not all patients bruise following treatment. It is advised to avoid exercise for at least 24 hours and to sleep upright the first night after your BOTOX treatment. It typically takes about 5 – 7 days for the results to appear. Once they become visible, the upper face will look softer, smoother, and a significant decrease in wrinkles will be evident. Our patients love their BOTOX results and come back every quarter for additional injections.
Plan Your Procedure
Procedure Recovery Location

Out-Patient
Contact Us
BOTOX is FDA approved and safe to use for wrinkle treatment and for therapeutic uses. When administered properly, BOTOX can create outstanding results. It is important to find an experienced injector to avoid any complications. Too much or too little of the medication can cause an undesirable outcome. BOTOX is also used for medical purposes, including to help with excessive squinting, blinking, sweating, and migraines. BOTOX should not be confused with an injectable filler. Derma fillers are products that 'fill in' wrinkles and lines with substances, such as hyaluronic acid, collagen, or fat, whereas BOTOX relaxes the muscles to create a similar effect.
Today, practitioners are using BOTOX for patients of various ages. Adults in their 30s use it for prevention, whereas those in their 40s and 50s use it for rejuvenation and maintenance.
Related Post